9 October 2020

GIUB signs the Better Science Initiative
The Institute supports the Better Science Initiative, which calls for a rethinking in academia towards more sustainability, diversity and equal opportunity. We invite other institutes to also sign up and to implement the 10 calls to action: betterscience.ch/en/calls-to-action/#/
7 May 2020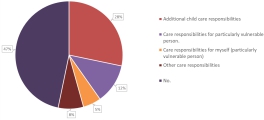 Results of GIUB survey «Care and Work in Times of Covid-19» now online
In March, the GIUB Equal Opportunity Commission conducted a survey among all employees on working conditions and care responsibilities during the Covid-19 emergency. The results show that GIUB employees have to reconcile the burden of work and caring responsibilities, which results in extraordinary burdens and stressful situations. Employees are also concerned about the impact of the crisis on their career. The Institute Council makes recommendations to help working groups and researchers in this situation. The results and recommendations are published on this page.
GIUB Survey Results Covid-19

(PDF, 296KB)
6 May 2020
Historical weather diaries as a basis for climate research
Historical weather observations help to understand atmospheric processes behind weather and climate events. The weather diary of the Kirch family from Berlin covers almost a century and provides the basis for the longest measurement series in Germany. In his Sabbatical, Stefan Brönnimann photographed the diary in Berlin. In the video he explains his work.