The Institute of Geography promotes the success of women and men in the scientific community as well as in academic teaching and studies with efficient measures for equal opportunities.
Nursing-room/Parent-Child-room at the Institute of Geography
The Institute of Geography has at its disposal a nursing-room/parent-child-room on the 3rd floor in room number 306. This room can be used by staff members of the Institute as well as by students for nursing or the possibility to work next to your child. The room needs to be booked through the Institute`s internal reservation system.
If you need more information or access to the reservation system, please contact Isabella Geissbühler: isabella.geissbuehler@giub.unibe.ch
Financial support contribution for child care within the Institute of Geography
For young female and male scientists
Activities for sensitization of equal opportunities at the Institute of Geography and actions
7 May 2020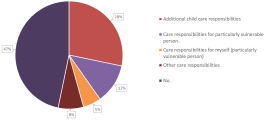 Results of GIUB survey «Care and Work in Times of Covid-19» now online
In March, the GIUB Equal Opportunity Commission conducted a survey among all employees on working conditions and care responsibilities during the Covid-19 emergency. The results show that GIUB employees have to reconcile the burden of work and caring responsibilities, which results in extraordinary burdens and stressful situations. Employees are also concerned about the impact of the crisis on their career. The Institute Council makes recommendations to help working groups and researchers in this situation. The results and recommendations are published on this page.
GIUB Survey Results Covid-19

(PDF, 296KB)
Collection of links with offers of support, counseling and training
Links to contact points of the University of Berne