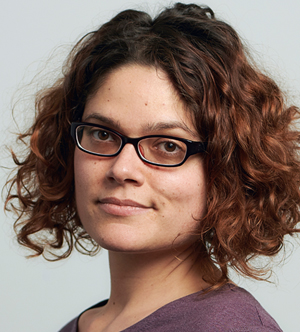 Dr. Theresa Tribaldos
Postdoc
Kritische Nachhaltigkeitsforschung
Telefon

E-Mail

Büro

254

Postadresse

Universität Bern
Centre for Development and Environment (CDE)
Mittelstrasse 43
CH-3012 Bern
Curriculum Vitae
Lehre
Supervisor Tutorium Minor Nachhaltige Entwicklung
Publikationen
Theresa Tribaldos, Flurina Schneider, Christoph Oberlack and Stephan Rist (manuscript). Governance of sustainability problems through transdisciplinary research: pathways to impact.
Flurina Schneider, Tobias Buser, Rea Keller, Theresa Tribaldos and Stephan Rist (under review). Design principles for transdisciplinary research funding programs aiming to enhance societal transformations.
Theresa Tribaldos, Johanna Jacobi and Stephan Rist (forthcoming). Linking sustainable diets with the emerging concept of "food sustainability". FAO Workshop Proceedings on the Technical Workshop on Sustainable diets in the context of sustainable food systems.
Gianluca Giuliani, Birgit Kopainsky and Theresa Tribaldos (2017). Momo und die Perspektivendiebe. In: Elisa Innerhofer und Harald Pechlaner (Hrsg.). Perspektiven der Regional- und Destinationsentwicklung. Oekom, München, p. 71-90.
Birgit Kopainsky, Theresa Tribaldos, Samuel Ledermann (2017). A food systems perspective for food and nutrition security beyond the post-2015 development agenda. Systems Research and Behavioral Science, DOI: 10.1002/sres.2458.
Birgit Kopainsky, Theresa Tribaldos, Christian Flury, Matteo Pedercini und Hans-Jörg Lehmann. 2014. Synergien und Zielkonflikte zwischen Ernährungssicherheit und Ressourceneffizienz. Agrarforschung Schweiz 5(4), S. 132-137.
Tobias Böhmelt, Thomas Bernauer, Halvard Buhaug, Theresa Tribaldos, Gerdis Wischnath. 2014. Demand, Supply, and Restraint: Determinants of Domestic Water Conflict and Cooperation. Global Environmental Change 29, p. 337-348.
Theresa Tribaldos, 2013. Conflict and Cooperation over Domestic Water Resources in the Mediterranean, the Sahel Area, and the Middle East: Drivers and Structural Alternatives for Conflict-Reducing Management. Dissertation thesis, ETH Zurich, Switzerland.
Bernauer, Thomas, Tobias Böhmelt, Halvard Buhaug, Nils Petter Gleditsch, Theresa Tribaldos, Eivind Berg Weibust, and Gerdis Wischnath. 2012. Water-Related Intrastate Conflict and Cooperation (WARICC): A New Event Dataset. International Interactions 38, p. 529-545.