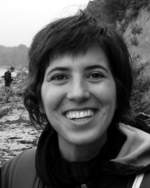 Dr. Martina Kauzlaric
deputy group lead
Mobiliar Lab
Phone

E-Mail

Office

404

Postal Address

Universität Bern
Geographisches Institut
Hallerstrasse 12
CH-3012 Bern
Curriculum Vitae
Research Focus
In recent times water‐related hazards have captured public attention and led to an increased interest in developing hydrologic forecasting systems. Forecasts of flood events with short lead times, of around 6‐72 hours in advance of a forecasted precipitation event, support emergency services provision and response, for example the temporary evacuation of people from hazard zones. Complementing a hydrologic forecasting system with the prediction of the hazard footprint as well as the direct consequences of a forecasted rainfall event is crucial to determine timely site‐specific flood losses and their effective propagation over large scale domains and thus improving responsiveness for multiple critical decision support needs. To our knowledge, a flood risk cascade from meteorological forecast to impacts at high resolution and across large domains within a systematic framework for the whole of Switzerland has not yet been realised and would provide considerable social and economic benefits.
Currently I am developing a national hydrological modelling framework for Switzerland that:
is transparent, exchangeable, and easily accessible through an open source modelling framework;
has an automated topological build for hundreds of gauges;
characterizes a wide range of hydrological behaviours making it applicable and transferable to multiple regions;
is computationally efficient for its use as an operational simulation tool for evaluating and improving the predictability of hydrological forecasts;
is comparable with existing and future studies and data – therefore reducing the risk of redundancy in the proposed forecasting system and ensuring future developments in other parts of the impact modelling chain are compatible.