News
HS 2019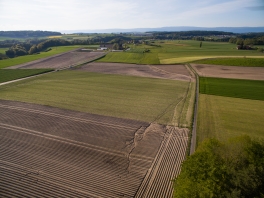 Forum Nachhaltigkeit: Nachhaltige Landnutzung und -bewirtschaftung in der Schweiz?
Das Nachhaltigkeitsforum bietet Vorträge von Gastdozenten aus Wissenschaft und Praxis, Politik, Wirtschaft und Zivilgesellschaft sowie anschließende Plenardiskussionen. Im Herbstsemester 2019 widmet sich das Forum dem Thema «Nachhaltige Landnutzung und -bewirtschaftung in der Schweiz».
Die Schweiz verfügt über eine vielfältige Landnutzung, die der Gesellschaft unterschiedliche Ökosystemleistungen erbringt. Nachhaltige Landnutzung und -bewirtschaftung in der Schweiz zu erreichen ist jedoch weiterhin eine wichtige Herausforderung auf lokaler, regionaler und nationaler Ebene. Verschiedene Initiativen und Maßnahmen zur Verringerung der Landumwandlung, des Verlusts der biologischen Vielfalt, der Emission von Treibhausgasen, des Verlusts landwirtschaftlicher Nutzflächen und des Verschwindens kultureller Landschaften spiegeln diese Herausforderung wider.
Ziel dieses Nachhaltigkeitsforums ist es, unter Berücksichtigung ausgewählter Dimensionen, Einblicke in die Herausforderungen und Chancen einer nachhaltigen Landnutzung und -bewirtschaftung in der Schweiz zu gewinnen. Wichtige Fragen sind: Wie ist der Zustand ausgewählter Landressourcen in der Schweiz? Wie verstehen verschiedene beteiligte Akteure die nachhaltige Nutzung und Bewirtschaftung von Landressourcen (Land, Boden, Wasser, Vegetation) in der Schweiz? Was sind die Haupthindernisse für eine nachhaltige Landnutzung und -bewirtschaftung in der Schweiz? Was sind die Kompromisse und Synergien zwischen den konkurrierenden Anforderungen an und der Nutzung von Bodenressourcen in der Schweiz und wie können sie angegangen werden? Welche Maßnahmen, einschließlich politischer Instrumente, werden angewendet und mit welchen Ergebnissen? Welche zusätzlichen Maßnahmen sind erforderlich und wie können sie aktiviert werden?
Ort / Zeit
GIUB Raum 001, Hallerstrasse 12, 3012 Bern
Donnerstags 16:15 - 17:45 Uhr
Programm (öffentlich)
3. Oktober: Adrian Müller (fibl), Sustainable management of grassland-dominat landscapes
17. Oktober: Volker Prasuhn (Agroscope), Gewässerschutz und Landwirtschaft - Erfahrungen und Herausforderungen
31. Oktober: Gian-Reto Walther (BAFU), The policy and practice of managing invasive plant species
14. November: Matthias Bürgi (WSL, GIUB), Research for sustainable management of landscapes
28. November: Gudrun Schwilch (BAFU, CDE), Operationalizing land degradation neutrality for Switzerland
Programm

(PDF, 440KB)
09.05.2019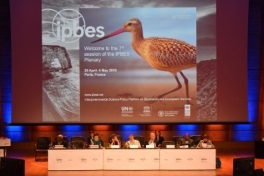 «Weltbiodiversitätsrat warnt vor drastisch beschleunigtem Artensterben»
19.03.2019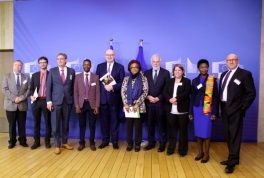 Neue Publikation - AN AFRICA-EUROPE AGENDA FOR RURAL TRANSFORMATION, Report by the Task Force Rural Africa
The European Comission Task Force on Rural Africa, in which Prof. Dr. Chinwe Ifejika Speranza (Institute of Geography, University of Bern) is a member, has published its report: "AN AFRICA-EUROPE AGENDA FOR RURAL TRANSFORMATION, Report by the Task Force Rural Africa".
According to the commissioners Josefa Leonel Correira Sacko (Rural Economy and Agriculture, African Union Commission), Neven Mimica (International Cooperation & Development), and Phil Hogan (Agriculture & Rural Development), the report…
recognizes the new reality of Africa and Europe as global partners on an equal footing, and that each region must steer its own development.
argues that the solution to agriculture will be found beyond agriculture, through a territorial approach to rural development in the widest sense.
stresses the importance of good policy as the key to developing the agri-food sector and rural areas.
demonstrates that farmers and the food industry are in it together and should work hand in hand to take the new opportunities that the African Continental Free Trade Area will offer and also, build the regional markets needed for Africa's long term food security.
gives a democratic and legitimacy that is at the heart of responsible investment and sustainable development, by recommending to directly involve farmers, cooperatives, civil society, and the private sector in policymaking and in their own futures.
The Task Force recommends the African Union and the European Union to develop a partnership operating on three levels: government to government, business to business, and people to people. In the next months, the European Commission and the African Union will decide how to translate the Report into action on the ground.
Full report: https://ec.europa.eu/info/sites/info/files/food-farming-fisheries/farming/documents/report-tfra_mar2019_en.pdf
Further information: http://europa.eu/rapid/press-release_IP-19-1569_en.htm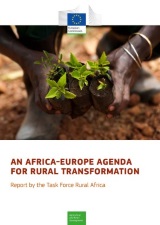 report-tfra_mar2019_en.pdf

(PDF, 1.3 MB)