Forschung
02.12.2019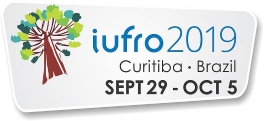 World Congress: Forest Research and Cooperation for Sustainable Development
Chidiebere Ofoegbu und David Ellison hielten im Oktober 2019 Vorträge am 25.IUFRO World Congress in Curitiba, Brasilien. Der Kongress wurde von über 6000 Wissenschaftlern aus diversen Organisationen besucht, die Interesse an Forschung zu Wald haben. Chidiebere sprach über seine Forschung in Südfrika und David hielt einige Vorträge über seine Arbeit mit Wäldern und Wässern. David unterstützte auch eine Co-Autorin (Emory Ellis, aus Hampshire College, USA) bei einem Vortrag über Wälder, Winde und Niederschlag. Eine Übersicht der Vorträge von David und Chidiebere findet sich hier:
Chidiebere Ofoegbu - Exploring the Knowledge Dynamics Associated with Forest Management for Climate Change in South Africa
David Ellison – On the Concept of Hydrologic Space
David Ellison - The Carbon-Water-Energy-Climate Nexus and Forest-Water-People-Climate Systems
Emory Ellis, Robin Sears and David Ellison - Forest Cover, Windspeed and Precipitation Recycling
Weitere Informationen zum Kongress und den Vorträgen:
https://www.iufro.org/events/congresses/2019/
https://www.iufro.org/fileadmin/material/events/iwc19/iwc19-abstracts.pdf
07.11.2019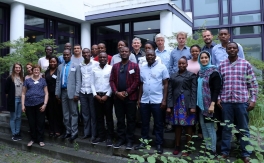 Workshop: African forest and drylands
Adenle Ademola A (PhD student) attended a land degradation related participatory workshop for PhD and PostDocs themed "Greening the Future: Sustainable Agriculture and Forestry in African and Asian Drylands" from September 14-19, 2019, in Bonn, Germany. The workshop provided insights into agricultural restoration methods and forestry concepts in a development context
07.11.2019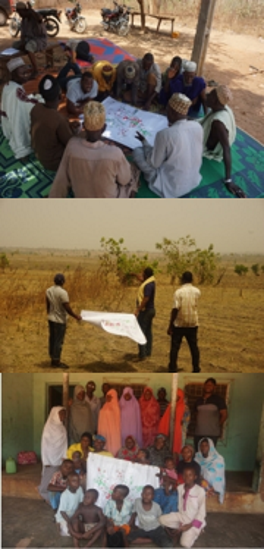 Impressions from Fieldwork in Nigeria
Among other things in Nigeria, land degradation and its impact is social-economic and ecological threatening particularly in the Nigerian Guinea Savannah (NGS) zone of the country. This is why Adenle Ademola A. (Ph.D student) is focussing his research on assessing Land Degradation and its Impacts on Ecosystem Services in the Nigerian Guinea Savannah with a special focus on Insights for Sustainable Land Management. The study questions were to be analyzed using a hybrid method of remote sensing techniques along with surveys, focus group discussions and interviews to collect data, which was quantitatively and qualitatively analyzed to capture degradation episodes in the Nigerian Guinea savannah. The necessitated fieldwork was conducted for six months between January, 2019 - June, 2019.
09.05.2019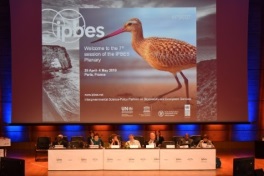 «Weltbiodiversitätsrat warnt vor drastisch beschleunigtem Artensterben»
19.03.2019
Neue Publikation - AN AFRICA-EUROPE AGENDA FOR RURAL TRANSFORMATION, Report by the Task Force Rural Africa
The European Comission Task Force on Rural Africa, in which Prof. Dr. Chinwe Ifejika Speranza (Institute of Geography, University of Bern) is a member, has published its report: "AN AFRICA-EUROPE AGENDA FOR RURAL TRANSFORMATION, Report by the Task Force Rural Africa".According to the commissioners Josefa Leonel Correira Sacko (Rural Economy and Agriculture, African Union Commission), Neven Mimica (International Cooperation & Development), and Phil Hogan (Agriculture & Rural Development), the report…
recognizes the new reality of Africa and Europe as global partners on an equal footing, and that each region must steer its own development.
argues that the solution to agriculture will be found beyond agriculture, through a territorial approach to rural development in the widest sense.
stresses the importance of good policy as the key to developing the agri-food sector and rural areas.
demonstrates that farmers and the food industry are in it together and should work hand in hand to take the new opportunities that the African Continental Free Trade Area will offer and also, build the regional markets needed for Africa's long term food security.
gives a democratic and legitimacy that is at the heart of responsible investment and sustainable development, by recommending to directly involve farmers, cooperatives, civil society, and the private sector in policymaking and in their own futures.
The Task Force recommends the African Union and the European Union to develop a partnership operating on three levels: government to government, business to business, and people to people. In the next months, the European Commission and the African Union will decide how to translate the Report into action on the ground.
Full report: https://ec.europa.eu/info/sites/info/files/food-farming-fisheries/farming/documents/report-tfra_mar2019_en.pdf
Further information: http://europa.eu/rapid/press-release_IP-19-1569_en.htm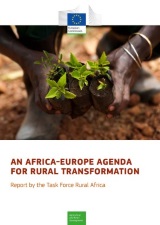 report-tfra_mar2019_en.pdf

(PDF, 1.3 MB)