2 December 2016
GIUB students at the European Parliament
In the framework of the seminar Political Geography a group of GIUB master's students visited the European Parliament in Strasbourg. Under the supervision of Dr. Béla Filep, on 24 November 2016 the students partcipated in a meeting of the parliamentary Intergroup for Traditional Minorities, National Communities and Languages, a forum of Members of the European Parliament dealing with contemporary minority issues. During their visit, the students also gained insights into the procedures and functioning of the parliament.
30 May 2016
Tambora and the "Year Without a Summer" of 1816. A Perspective on Earth and Human Systems Science
The 1815 Tambora eruption devastated the island of Sumbawa, led to a global cooling and contributed to the last famine in Switzerland. A booklet by Stefan Brönnimann und Daniel Krämer pubished by Geographica Bernensia now provides a synthesis of this event (free online under geography.unibe.ch/tambora, German and English versions):
Brönnimann S, Krämer D. 2016. Tambora and the "Year Without a Summer" of 1816. A Perspective on Earth and Human Systems Science. Geographica Bernensia G90, 48 pp., doi:10.4480/GB2016.G90.01.

15 April 2016
New excursions «Tracks along the Water World»
The new serie of hydrological excursions in the Lower Valais have been presented in Saillon. The excusions lead from the Plaine Morte glacier to the Rawil pass to the Tzeusier dam (7.1), from Savièse along the irrigation canals to Lake Mont d'Orge above Sion, and around the medieval village Saillon.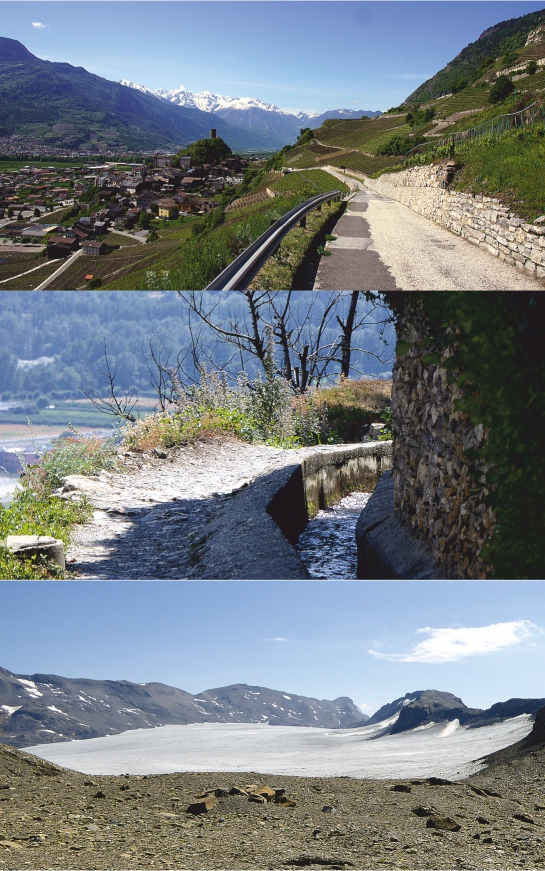 Impressions of the new excursions in Series 7 (Photos: Tom Reist)
The guides are available only in print form in French.
20 October 2015
Droughts and shifts in tropical circulation
A number of dry summers in central and southern Europe between 1945 and 1954 led to poor harvests. About 30 years later, the Sahel region suffered from deadly drought. Both events were related to a shift of the tropical belt. This is shown in the latest paper of the climatology group published in "Nature Geoscience". The shift was caused by a strong interhemispheric gradient in sea-surface temperatures, as could be shown with climate model simulations. From the 1940s to the 1970s, the southern hemisphere warmed rapidly, drawing the tropical belt towards it, while the northern hemisphere cooled. Anthropogenic aerosols or oceanic variability modes both might have contributed. Since the 1970s the trend has changed. The tropical belt expands and the arid zones migrate poleward; a process that will continue with anthropogenic climate change.