Research Projects Geomorphology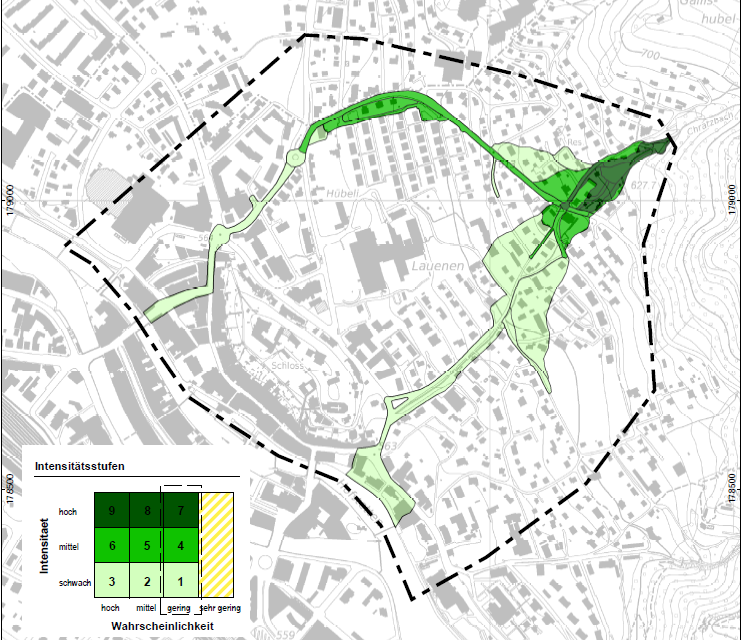 Our research group focuses on the three main issues Geomorphology, applied Natural Hazards research and Risk research.
We predominantely engage in the research on current geomorphological processes and their interactions on different temporal and spatial scales as well as the investigation of dynamic process behavior in a changing environment. Another focus lies on process cascades where changes in high mountaineous regions can affect valley floor processes via multiple feedbacks.
In the field of applied natural hazard- and risk research, our group develops methods for the analysis of hazards, damage potential and vulnerability in quantitative risk analysis. Mulit-risk analyses and research on the dynamic spatio-temporal evolution of risk supplement these studies. Findings from geomorphological process research as well as from the applied natural hazards- and risk research provide the basis for various further aspects of risk management and risk communication (e.g. risk maps).
Furthermore, a key issue of our research group is the intense examination of complex human-environment-interactions. Here the application of approaches from the complexity- research to geomorphology and natural hazard-and risk research is an essential methodological aspect.
Main research topics of our group:
Geomorphology
Process knowledge on debris flows, landslides and sediment flux
Geomorphodynamics and connectivity of geosystems and their interactions with climate change
Permafrost degradation, changing hydrological circumstances, multi-hazard-systems
Applied natural hazard- and risk research
Hazard-, damage potential- and risk analysis
Quantitative risk analysis and multi-risk-analysis
Spatio-temporal risk evolution
Aspects of risk management (e.g. systematics, effects, communication)
Complex human-environment interactions
Complexity-research in Geomorphology
Intercations and interdependencies between geosystems and society
Effect and use of instruments for the prevention of elementary injuries
Zur Förderung der Elementarschadenprävention (ESP) an Gebäuden kommen heute bei den kantonalen Gebäudeversicherungen (KGV) diverse Instrumente zum Einsatz. Wenn es Versicherungsnehmer unterlassen, zumutbare Massnahmen zur ESP umzusetzen, gibt es zum Schutz der Solidargemeinschaft auch die Möglichkeit, versicherungsrechtlichen Instrumente anzuwenden, um Schadenzahlungen im Ereignisfall zu reduzieren. Es fehlt bisher ein fundierter Überblick über den heutigen Nutzen, die mögliche Wirkung sowie die allfälligen Nachteile der verfügbaren Instrumente.
Im vorliegenden Projekt wurde ein aktueller Überblick über die angewendeten ESP-Instrumente erarbeitet. Anhand von Schadendaten und Kenngrössen zur Exposition des versicherten Gebäude-Portfolios wurde zudem geprüft, ob sich Unterschiede bei der ESP zwischen verschiedenen KGV statistisch nachweisen lassen.
Für ausgewählte KGV wurden die wichtigsten Instrumente hinsichtlich ihrer Anwendung umfassend bewertet und das mögliche Optimierungspotenzial aufgezeigt. Daraus wurden aus rechtlicher und gesellschaftlicher Sicht für alle KGV Empfehlungen im Sinne von "best practices" abgeleitet hinsichtlich des Einsatzes von ESP- und versicherungsrechtlichen Instrumenten mit dem Ziel einer optimalen Balance zwischen Prävention und Schadendeckung. Weil mit steigenden Schäden die KGV zunehmend unter Druck sind, die Solidargemeinschaft vor den finanziellen Folgen von vermeidbaren Schäden zu schützen, wurde dieser Aspekt vertieft untersucht.
Das Projekt wurde im Rahmen der 9. Ausschreibung der Präventionsstiftung der Kantonalen Gebäudeversicherungen finanziert. www.praeventionsstiftung.ch
Die Gruppe für Geomorphologie, Naturgefahren- und Risikoforschung bearbeitete das Projekt zusammen mit Ernst Basler + Partner AG Zollikon (Projektleitung) und Cornel Quinto Zürich (Rechtsexperte). Arbeitsschwerpunkte der uni Bern in dieser Gemeinschaft bildeten die Datenaufbereitung und –Analyse zu Gebäude-Exposition und -Schäden, die Mitarbeit und Qualitätssicherung bei der Aufnahme der aktuell angewendeten ESP Instrumente sowie quantitative Aspekte bei der Nutzwertanalyse über verschiedene Instrumentenkombinationen.
Dauer: März 2016 – Dezember 2017