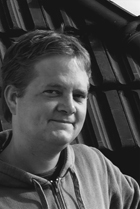 Dr. This Rutishauser
PostDoc
Klimatologie
Telefon

E-Mail

Büro

508a

Postadresse

Universität Bern
Geographisches Institut
Klimatologie
Hallerstrasse 12
CH-3012 Bern
Forschungsschwerpunkt
Phenology
Impact on climate and environment
Lebenslauf
Publikationen
Delpierre, N., Y. Vitasse, I. Chuine, J. Guillemot, S. Bazot,T. Rutishauser, C.B.K. Rathgeber (2015) Temperate and boreal forest tree phenology: from organ-scale processes to terrestrial ecosystem models. Annals of Forest Science, doi:10.1007/s13595-015-0477-6.
Ge, Q., Wang, H., Rutishauser, T. and Dai, J. (2015) Phenological response to climate change in China: a meta-analysis. Global Change Biology, 21: 265–274. doi:10.1111/gcb.12648.
Wang, H., Q. Ge, T. Rutishauser, Y. Dai, J. Dai (2015) Parameterization of temperature sensitivity of spring phenology and its application in explaining diverse phenological responses to temperature change. Nature Scientific Reports 5, 8833, doi:10.1038/srep08833.
Ge, Q., H. Wang, J. Zheng, T. Rutishauser, and J. Dai, (2014) A 170-year spring phenology index of plants in eastern China. J. Geophys. Res., 119, 301–311, doi:10.1002/2013JG002565.
Anderson, D. M., E. M. Mauk, E. R. Wahl, C. Morrill, A. Wagner, D. R. Easterling, T. Rutishauser (2013) Global warming in an independent record of the last 130 years. Geophys. Res. Lett. 40, 1–4, doi:10.1029/2012GL054271.
Naef-Daenzer, Beat, Jürg Luterbacher, Maria Nuber, This Rutishauser, and Wolfgang Winkel (2012)Cascading climate effects and related ecological consequences during past centuries, Clim. Past, 8, 1527-1540, 2012, doi:10.5194/cp-8-1527-2012.
Rutishauser, T., R. Stöckli, J. Harte, L. Kueppers (2012) Climate change: Flowering in the greenhouse. Nature 485, 448–449, doi:10.1038/485448a.
Stöckli, R., Rutishauser, T., Baker, I., Liniger, M. A. and Denning, A. S. (2011) A global reanalysis of vegetation phenology, J. Geophys. Res., 116, G03020, doi:10.1029/2010JG001545.